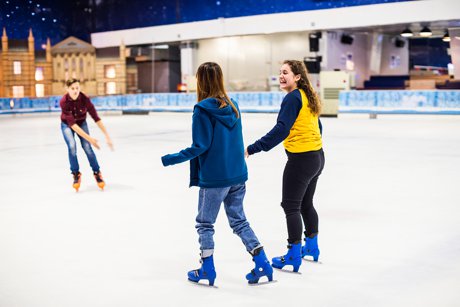 Skate onto the ice any time of year on Natick property. At the William L. Chase Arena winter sports last through all the seasons. From hockey to ice skating, it's all in the house. Located at 35 Windsor Avenue fun on the ice rink is just minutes away.
There's smiles all around on during public skate. For generations folks living in Natick have been gathering together for these cool moments. Socializing at its best, public skate offers safe, amusing recreation for kids of all ages. Admittance and skate rental is only $10.00 total, making this an affordable excursion. When all that skating stirs up an appetite, the Ice Box Cafe is open and ready to help. Serving snacks and other tasty tidbits hunger pains are sure to go away quickly. Weekday and weekend times mix it up on the calendar. Birthday parties are also a blast with the lucky child being the envy of all who attend. Party packages include time on the ice and a private room for presents, cake and games.
Hockey Players Living in Natick Get in the Game
It's easy to master the art of skating with quality lessons offered on the Natick property. Follow the path to figure skating glory with Skating Specialty Classes. Children as young as three can step out onto the ice. Students learn the basics including power, conditioning, edges and dance. Once swirling and twirling, competitions and team placements are possible. Hockey fans are a bit more rough and tumble. A variety of hockey programs meet the needs and ages of all levels of athletes. Skate 1 gets newbies comfortable on the ice, then Bruins Fundamentals adds in key skills. The Bruins Fundamentals Advanced class puts participants right in the action with game scenarios, team work tactics and actual game play. Camps, clinics and workshops build confidence and enthusiasm. Leagues liven up the joint with regular games.
Skate onto the rink at the William L. Chase Arena and feel your troubles melt away. Hours are seasonal and should be checked online before heading over. Additional information can be obtained by calling 508.655.1013.